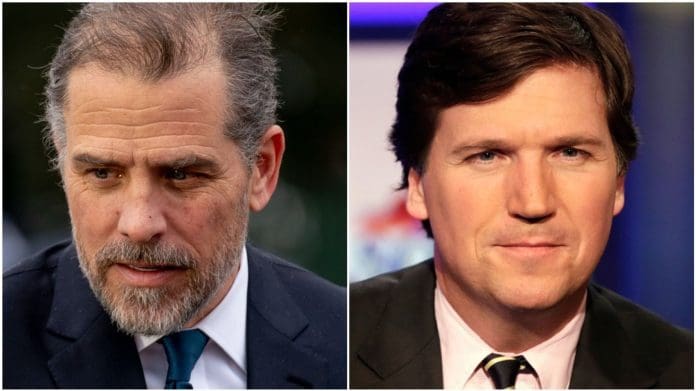 Tucker Carlson once sought the help of Hunter Biden for their son's admission to Washington's Georgetown University. Tucker's wife wrote an email to Hunter back in 2014 seeking his assistance for their son, Buckley's admission.
Susie Carlson had even sought to send Hunter a brief resume detailing his grades and interests. Tucker revealed their son's proficiency at squash and mentioned that he was also a good fly fisherman, and wanted to go to Washington for the 'right reasons'.
Tucker Carlson's wife also wrote that the family would be grateful if Hunter would write a recommendation letter to the admission office of the elite university.
The letter revealed the extent to which Tucker Carlson would turn on former associates to succeed in an extremely biased world of American media and politics.
Email Reveals Tucker Carlson's Hypocrisy
Tucker Carlson's entreaties to Hunter Biden to get his son admitted are surprising to those who know the hatred he spews against the President and his family. Carlson repeatedly attacks Hunter for trying to profit from his father's connections.  
He has repeated his ridicule since Joe Biden assumed the highest office. Tucker Carlson said that Hunter had 'superpowers' now that his father was the president. He further said that Hunter could even come up with a vaccine for COVID-19 that Americans would be forced to take. He said that the sky was the limit for Hunter as long as Joe Biden was in power.
The exchange between Carlson and Hunter was copied from the latter's laptop and was found to be genuine. Carlson admitted that he had once been close to Hunter, and they were once neighbors. He said that Hunter's addiction was the cause behind his life coming apart.
But Tucker Carlson has time and again refused to directly discuss the emails and claimed that there were signs of Russian disinformation in the revelation, something American intelligence to had claimed during Trump's tenure.