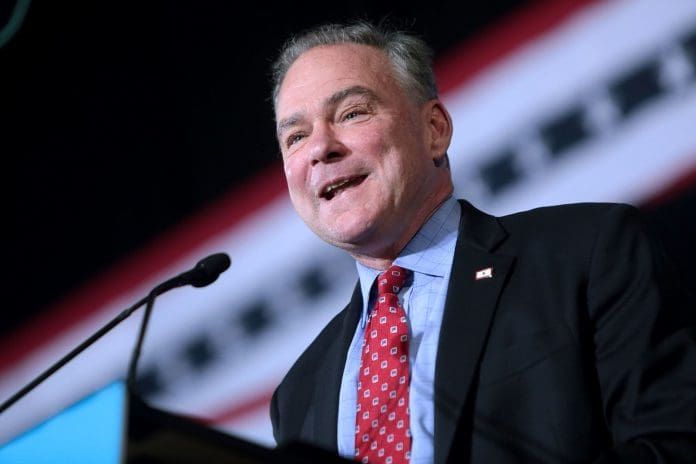 Tim Kaine, the junior Democratic Senator from Virginia, said on Sunday that Donald Trump could be barred from the 2024 presidential election. He said that there was a strong argument that the 14th Amendment could disqualify the former president.
Tim Kaine has said that the clause on insurrection against the constitution could preclude Trump from the next year's elections. He said that in his opinion the attack by Trump-backed rioters on the Capital on January 6, 2021, had a sinister purpose behind it.
Tim Kaine said that the whole purpose of the riots was to prevent a peaceful handover of power, something which has been specifically mentioned in the US Constitution. The Senator said that there was a strong argument to bar Trump in 2024 based on this logic.
Tim Kaine was Hillary Clinton's running mate in the 2016 presidential elections. Clinton narrowly lost to Trump, but the election was marred by allegations of rigging. He said that the Constitutional language was specific. He was discussing the 3rd section of the amendment.
Tim Kaine Says Section 3 Of The Amendment Specifically Disqualifies Trump
It specifically mentions the US Constitution when it says about those who give aid or those who participate in any insurrection. Tim Kaine stressed that it does not say an insurrection against the US but against the US Constitution.
The section says that no person can be elected to the office of the President and other important government functionaries who are under an oath to support and protect the US Constitution. It specifically says that if they have been a part of any rebellion or insurrection, or given comfort or aid, to enemies of the US, they automatically stand debarred.
Tim Kaine said he had discussed the clause with his colleagues when Trump faced his 2nd impeachment. He and other legal experts are looking into ways to prevent the disgraced former president from running again for office. Two leading constitutional experts have said that Section 3 indicates that it disqualifies Trump for his role in the attempt to overturn the 2020 presidential election result.