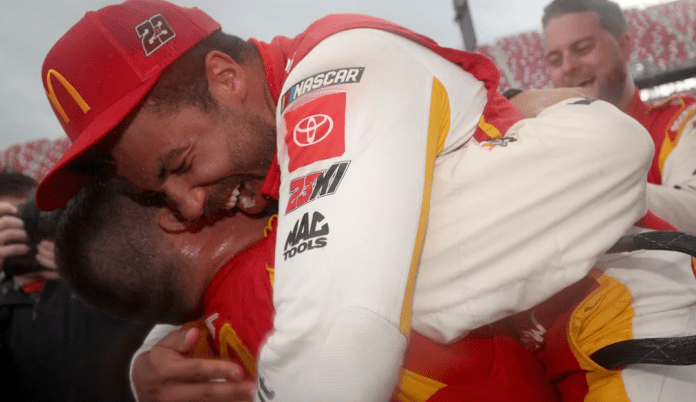 Bubba Wallace won the NASCAR Cup Series Race on Monday at Talladega Superspeedway. This is considered to be the crapshoot of all the other racetracks. He won the race which was shorted due to the rains which is also the crapshoot of all racing strategies.
Bubba Wallace drove for a new team, which is co-owned by the greatest basketballer and is backed by Toyota and Joe Gibbs Racing.
Bubba Wallace Broke Into Tears While Celebrating
Wallace celebrated the win by crying and jumping around like a kid. He also dropped tons of cuss words on live national television. 
Bubba Wallace stated that the win was for all the kids who wanted an opportunity, in whatever field they desired and to be the best at what they wanted to do. He added that they might be obstructed by blocks but they should always stay true to the main goal and not let any nonsense get to them. There were plenty of times that he wanted to give up his dreams but he was luckily surrounded by the right people who motivated him. 
NASCAR had called off the race with 71 laps remaining amidst looming darkness.
Bubba Wallace received congratulatory tweets as well as some harsh comments on Twitter but the thing is, he does not care.
He has no interest in the hater's opinions about the win that he and his team has gathered at the end of a weather-delayed Monday afternoon Talladega showdown.
Bubba Wallace is a grown man now and does not care about the hateful comments. He has been engaged recently and is only 4 days away from his 28th birthday.