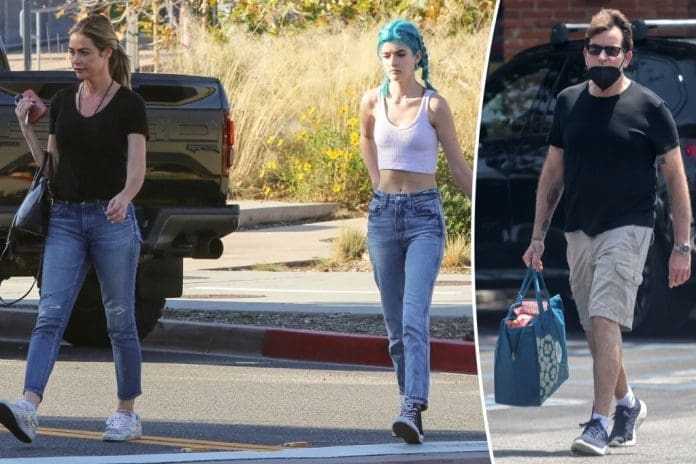 It seems one chapter in Charlie Sheen's life is about to end. The actor has requested legally to discontinue his child support payments to Denise Richards, his former wife. The reason was that Sami, the couple's oldest daughter started living in his house. US Weekly published the report exclusively.
A Fair Judgement According To Charlie Sheen
In an exclusive statement to US Weekly given immediately after exiting the courthouse, 56-year-old Charlie Sheen said that he considered the transpired events to be extremely fair. On 4th October Monday, the actor looked to be in very high spirits. He said that the decision is not just relevant for the day, but represents the history of fairness as well.
The actor who featured on Wall Street had put in a legal request to change the order regarding the arrangement of child support for his ex that was decided in 2019 December. 50-year-old Denise Richards, the alum of Real Housewives of Beverly Hills had not filed any paperwork opposing Charlie Sheen's hearing. Alexander Giza, the judge at the hearing on Monday, confirmed the proceedings.
Charlie Sheen and Denise Richards have two daughters – 17-year-old Sami and 16-year-old Lola. Both of them attended the hearing while sitting beside Gregory Pedrick, Sheen's attorney. However, Richards had not attended the hearing. Pedrick requested that Charlie Sheen should not pay any more child support since that girls were in his complete custody since April.
Pedrick clarified that there were no judicial orders regarding child support regarding Lola and Sami, however, the ex-couple had a 50/50 agreement to care for their daughters. But, during the previous few months, the arrangement had changed. However, a source claimed that Richards could not attend because she was not in the state and never received the court date.