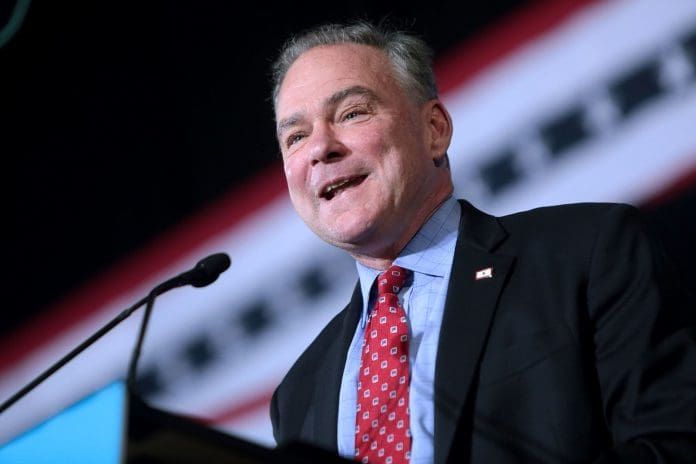 Former 2016 vice presidential nominee under Hillary Clinton and Democratic Senator from Virginia, Tim Kaine, is set to seek a third 6-year term in 2024. He announced on Friday from Richmond, the capital of Virginia, after meeting up with local businessmen and partaking in a talk on economic expansion.
In an announcement, Tim Kaine said that he had been grappling with the future after his term ended at the Senate. He said that he was glad to proclaim that he would be going for a 3rd Senate term.
Tim Kaine's announcement comes as a major respite for the Democratic Party which had been backing him to run for reelection, and evade the ambiguity of being a novice in the 2024 elections.
Kaine said that he loved Virginia and was proud of his achievements. The GOP reacted to Tim Kaine's announcement in a low-key manner and only said that they would focus on getting the correct candidate to challenge him.
The GOP Has Given A Low-Key Response To Tim Kaine's Announcement
National spokesperson for the Republican Senatorial Committee, Maggie Abboud said that Virginians have established that they are willing to back Republicans, given the correct political atmosphere and the correct candidate.
She said that the GOP would keep a watch on Virginia. She said that the party would concentrate on bringing in a strong and able candidate capable of raising the resources essential to compete.
The Democratic Party has performed way above expectations in the midterms in 2022. But the 2024 presidential elections could throw up a far different result. The Democratic Party will be fighting to hold on to their seats in many of the battleground states.
The Democratic Party will be fighting to hold onto twenty-three out of the thirty-four Senate seats that are up for reelection in 2024. Seven out of those seats are in states that were won by Trump either in 2016 or 2020.