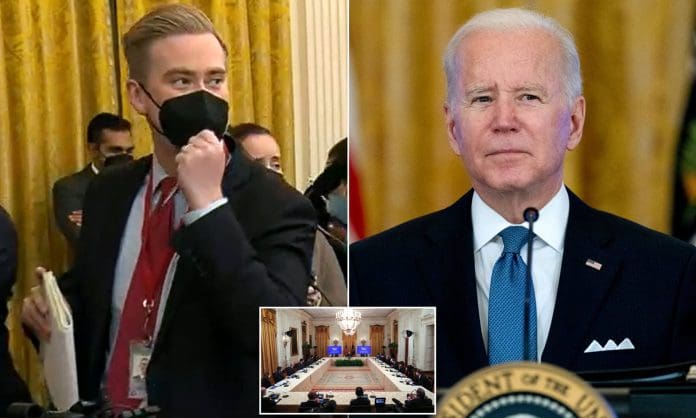 On Monday, US Vice President Joe Biden found himself in hot water. Following a query on inflation, he was overheard on the microphone calling Pete Doocy, a journalist, a "stupid son of a b——." According to reports, Biden phoned the journalist shortly after and apologized for the incident, stating it was not personal.
Joe Biden Disrespecting Reporters
The incident occurred on the margins of a White House function on Monday evening. Fox News reporter Peter Doocy sought to question US President Joe Biden on whether inflation was a political problem. Biden, who was probably unaware that the microphone was turned on, said that inflation was a tremendous asset and then called a foolish son of a b-.
Doocy stated that the US President apologized to him within an hour of the event. Doocy stated that he expressed gratitude to Joe Biden for reaching out to him.
An intriguing lesson from the entire scenario is that the White House included Biden's hot mic moment in its official transcript of the event. This is not the first time Biden has called a reporter out for their questions. Joe Biden allegedly put down another Fox News reporter last week when she questioned why he was waiting for Vladimir Putin to make the first move. Biden responded by saying that it was a foolish question.
Tensions have been high between Russia and the United States recently, following Biden's statement, that Putin would invade Ukraine. The US State Department even asked family members of its diplomats and citizens to leave Ukraine in an advisory issued late Sunday night, citing an increased threat of Russian military action.