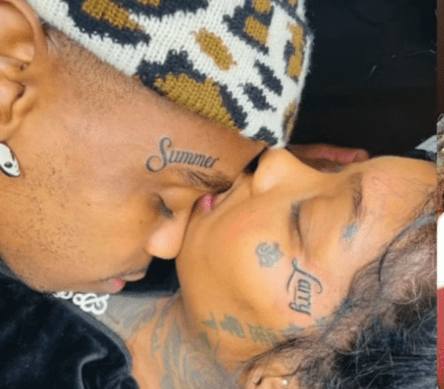 Summer Walker has made permanent her romance with LVRD Pharaoh, the rapper. They have sealed their love with something more permanent than a kiss, using permanent ink and getting their face tattooed with each other's names.
LVRD Pharaoh and Summer Walker flaunted their matching face tattoos on Instagram. Each had the other's name tattooed on their face. Pharaoh's actual name is Larry. Pharaoh had 'Summer' etched on his face.
Summer Walker captioned the photos as 'Bestfriend.' There was also a video that showed them cuddling to the soundtrack of 'Tattoo Tears,' Nefew's latest song.
While Summer Walker's tattoo is close to the left eye over her cheekbone, Pharaoh's tattoo, 'Summer' is placed just above the right eyebrow.
Pharaoh also uploaded their intimate picture on Instagram. He captioned it 'Eternal Love Wins.'
Summer Walker And Pharaoh Have Been Together Since 2014
Summer and Pharoah's relationship turned romantic without anyone knowing. Even last month, Summer had declared that she wasn't hitched. Pharaoh has told his innumerable fans on Twitter that they had been together for quite some time, going back to 2014.
The rapper has released pictures of the couple laughing and hugging one another. The pictures had a piece of advice to marry one's best friend.
A day before they went public with their matching tattoos on their faces, Summer Walker said that having faith will help shape life the way that it is supposed to.
She reveals that her songs are mostly about learning from your mistakes, healing yourself, finding happiness, and learning to move on. Walker reveals that it is funny the way life has a way of moving on. She had never believed that after finding herself in the depths of despair, she would turn around to experience the happiest moments of her life. She said that faith in God has helped her.