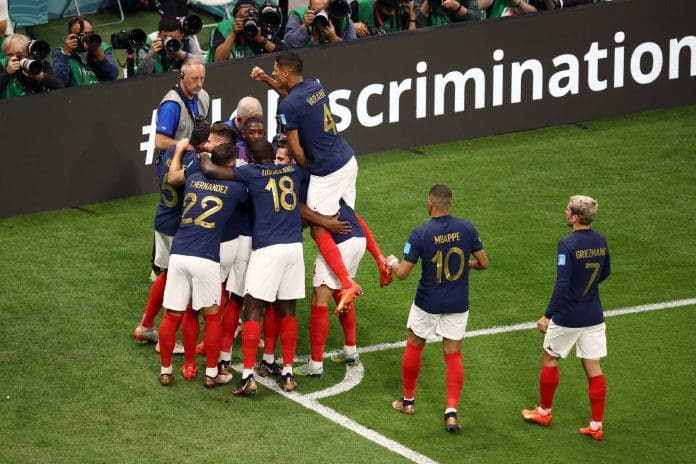 The World Cup semi-finals have been decided! After Argentina and Croatia confirmed their places on Friday, Morocco defeated Portugal on Saturday to become the first African side to advance to the final four, making history. They'll take on France, who defeated England in the other quarterfinal game.
After Morocco became the first African side to ever make it to the World Cup quarterfinals, the defending champions France defeated England 2-1 on Saturday after Harry Kane missed a late penalty. On Wednesday, France will play the unexpected North Africans in a semifinal after Olivier Giroud's decisive header at Al Bayt Stadium gave them the victory.
France Will Be Veering Off Against Underdogs Morocco in the World Cup Semi-Finals
Aurelien Tchouameni's goal gave France the lead in the suspenseful game after 17 minutes, but Harry Kane's penalty kick gave England the equalizer early in the second half of the World Cup quarterfinal.
Theo Hernandez unnecessarily shoved Mason Mount, and after a VAR review, the referee awarded a spot-kick, giving England a late lifeline as they frantically sought an equalizer. Kane, however, missed the opportunity to put the game into overtime as he blasted his kick far over the crossbar. At the final horn, he was the first England player to fall to his knees and bury his head in his hands.
Before the competition began, only the most ardent Moroccan supporter would have wagered on their team making it to the World Cup semifinals. They advanced further than any African side has previously in a World Cup on Saturday thanks to Youssef En-first-half Nesyri's header against Cristiano Ronaldo and Portugal. Morocco, who entered the competition with a world ranking of 22, has advanced further than the other three African teams to do so: Cameroon in 1990, Senegal in 2002, and Ghana in 2010.